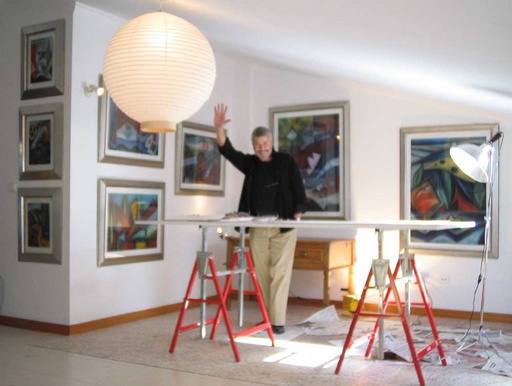 LUIS ATHOUGUIA (Cascais 1953)
Desde 1983 vem apresentando os seus trabalhos em centenas de relevantes Exposições e Bienais de Arte em Portugal, Espanha, França, Alemanha, Itália. Considerado um dos grandes talentos no mundo artístico da sua geração, está representado em museus, instituições e importantes colecções nacionais e estrangeiras e foi distinguido, com o Prémio Vespeira na Bienal do Montijo 1997 e Prémio do Salão da Sociedade Nacional de Belas Artes 2011.
The Work by Luís Athouguia brings us one step closer to the infinite dimension of creation. It awakens our senses and appeals to our feeling of affinity.
The orchestration of his Work has led to a new, vigorous and unmistakable lexicon of unadulterated abstraction. The motto behind his Work is built upon the tragedy of its own nonexistence, in a chromatic and formal text that relies upon the unfathomable quality of all the mystery suggested therein but not revealed.
The soundless composite nature of material and the soul's excursions through it.
The consecration of the unpredictable.
The apparent denial of the regulating geometry of gestures overhung by a splendid halo of timelessness.
The shapes of Athouguian vocabulary which are representations of unknown phenomena are organized like chrysalises of an enchanting metamorphism, a revealing oracle, an impenetrable rite.
The paintings by Luís Athouguia are a place of dreamlike visions, of multiple ceremonies, an iconographic venue of abstractions both in shape and in content.
In them we come across allegories, suggestions and allusions to a form of writing that is inscribed figuratively in the body of the abstract text. In the latter we dare to identify (or merely catch a glimpse of) birds, fish, faces or masks thereof, insignias, signs, periphrases and paraphrases, the silences of the seas, half-moons, efflorescences and organic crystallizations, a winged eye, the eye of a scorpion, a dinosaur eye, an eye of algae…
Carlos-Antero Ferreira (Poet/Author)
The word subterfuge in the work by Luís Athouguia does not exist. In fact words are not a part of his work at all. Lines and colors are transfigured onto to the canvas where they glorify the wonderful universe we inhabit. They sharpen thoughts that were born and then lost in the midst of our dreams. They act as bridges that guide us towards true eternity. Not that illusive eternity where there is no end and in which time stretches on forever… instead, he grabs hold of the beginning, of raw, primordial material, and there, where the soul takes shape, he finds truth supreme and all that the mind cannot conceive…
Courage is required in order to literally dive into the work he produces. To do so it is crucial that we reach a state of absolute freedom within ourselves which can usually only be found when we merge sleep and the world of dreams and let go of reality. Only thus can we conceive and feel the artistic universe brought to us by his paintings. It is in this subliminal manner, whilst we are both free and terribly lost, that we are able to conceive the new paths proposed by his work.
This is what Luís Athouguia brings to us. The eternity from which we sprang, where we still are at present and will remain forever.
It does not matter whether we are aware of it or not!
João Aníbal Henriques (Author)
ALGUMAS EXPOSIÇÕES INDIVIDUAIS:
Museu da Água, Museu de Electricidade, Museu de Estremoz, Museu Martins Correia, Galeria de São Mamede, Galeria MAC, Galeria 2 Paços Torres Vedras, Galeria dos Escudeiros Beja, Galeria Artur Bual Amadora, Galeria Municipal do Montijo, Galeria da Ordem dos Médicos, Galeria Velasquez Valladolid (E), Galeria BCN Art Direct Barcelona (E), Centro Cultural de Lagos, Centro de Exposições de Odivelas, Casa de Cultura de Coimbra, Paço da Cultura Guarda, Paços de Concelho de Ponta Delgada, Castelo de Ourém, Castelo de Portalegre, Convento de S. José Lagoa, Capela da Misericórdia Sines, Palácio Quintela Lisboa.
ALGUMAS EXPOSIÇÕES COLECTIVAS:
Altes Amtshaus em Bad Neustadt am Hohntor (D); Museo Comarcal de Hellín (E); Paseo del Arte em Madrid (E); Museu Municipal de Albacete (E); Palacio Congresos Barbastro (E); Sala Expometro em Madrid (E); Fundación Progreso y Cultura, Madrid (E); Círculo de Arte de Toledo (E); Casa Heredia, Graus, Huesca (E); Centro de Arte L'Espinoa, Baignes (F); Galeria S. Mamede, Galeria Ler Devagar, Galeria Pedro Sem, Galeria 65 A, Galeria Linhares, Galeria Arte Contempo, Galeria Josephus, em Lisboa; Galeria Conventual, Alcobaça; Galeria Arthouse, Cascais; Centro Cultural da Nazaré; Centro Cultural de Belém, Lisboa; Palácio dos Aciprestes, Oeiras; Palácio D. Manuel, Évora; Palácio da Independência e Palácio Foz, Lisboa; Castelo de Ourém; Museu da Àgua, Lisboa; Museu Regional de Sintra; Museu de Arte Sacra, Alcochete; Museu de São Brás de Alportel; Convento de Cristo, Tomar; Convento da Graça, Torres Vedras; Convento do Beato, Lisboa; Convento de S. Francisco, Monsaraz.
BIENAIS:
Vila Nova de Cerveira, Cascais, Sabugal, Góis, Nazaré, Mafra, Alentejo, Amadora e Montijo.